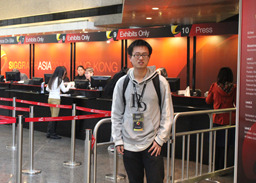 Education
Tsinghua University (2012-2015)
Tsinghua University (2008-2012)
Work
Senior Engineer at Netease (Oct 2018 - Present)
Senior Engineer at SoulGame (July 2015 - Sep 2018)
Publication
Kanglai Qian, Bin Wang, Huarong Chen. Automatic flexible face replacement with no auxiliary data, Computers & Graphics, 2014.
Miaoyi Wang, Bin Wang, Yun Fei, Kanglai Qian, Wenping Wang, Jiating Chen, Jun-Hai Yong. Towards Photo Watercolorization with Artistic Verisimilitude, IEEE Transactions on Visualization and Computer Graphics, 2014, 20(10): 1451-1460.
Jiating Chen, Xiaoyin Ge, Li-Yi Wei, Bin Wang, Yusu Wang, Huamin Wang, Yun Fei, Kang-Lai Qian, Jun-Hai Yong, Wenping Wang. Bilateral Blue Noise Sampling. ACM Transactions on Graphics 2013 (SIGGRAPH Asia 2013, Hong Kong), 2013, 32(6): 216:1-216:11.